Revan Ultrablaster
The Story of Revan the KnightEdit
Hello i am Revan but before i was Revan i was Alexander Blaster a Very respect player along with a Beta Tester for CWA and have been friends with Blaster since the time of Beta Testing and have been with super Troopers for about a Year now and have also been a loyal Jedi Knight. I have been in mainly my own alliances that i have made mainly my best one had 100 people was Called Drop Troopers the Lone Wolves. and made one Expansion alliance until both failed because of people wanting to join bigger alliances with more and more Paid Members.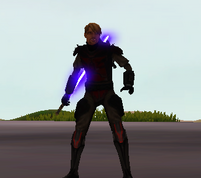 ==
Revan The Master of the Force
Biographical information
Homeworld

Coruscant

Born

50 BBY

Died

Unknown

Physical description
Species

Human

Gender

Male

Height

6 Ft 2 In

Hair color

Blonde

Eye color

Blue (sometimes Yellow)

Handedness

right-handed

Chronological and political information
Era(s)

Clone Wars

The Old Republic

Affiliation

Republic

Revanchists

Jedi Order

Sith Empire

Grand Republic

Super Trooper

Rank

Jedi Master

Known masters

Yoda

Revan

Known apprentices

LadyDanielle Champion

Family

Rosa Blaster (Sister)

Squad Rank

Leader (Drop Troopers)

Former Squad(s)

Drop Troopers Lone Wolves

Battle Class
==
The Death of Alexander Blaster
Edit
Alexander Blaster was Killed during the Middle of the Clone Wars, and was later revived and mixed in with the DNA of Revan the Prodical Knight and his memories of Being Alexander Erased. The Newborn Revan came back as a Master of the Force and a Master of the Blade and was so in touch with the force that he could actual sense emotions from across the galaxy for those who he cared deeply for, He Was at the Jedi Temple during Order 66 and was forced to surrender. With his DNA now part of Revan he was Torn as Revan was a Decendent of Jedi and Sith and Alexander was a Member of the Jedi Order. He started to become corrupted until one day he saw the light, He later found out that there were more people from the Scattered Remains of the Old Republic and Join up with the Super Troopers and become Whole once more, He later Became a Master of the Jedi Order and was on the High Council during the New Republic.